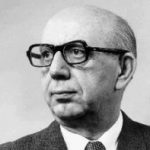 He was born in Resen in 1912. He graduated from the Veterinary Faculty in Zagreb.
Miljovski became secretary of the Initiative Board for convening ASNOM in 1944. He participated in the First Session of ASNOM and he was elected as a member of the ASNOM Presidency.
He was appointed as a public prosecutor of the People's Republic of Macedonia on 1st of May1945. He held this post until 27.07.1946 and afterwards he was elected as the first President of the Planning Commission of Macedonia and a member of the Government of the People's Republic of Macedonia, and later Minister of Trade and Supply.
In 1949 he was elected as a full professor at the Faculty of Agriculture and Forestry and the first Rector of the University of Skopje where he remained to exercise the very office until 1954. He was re-elected twice as rector, he was an active participant in the Union of Economists of Yugoslavia, and he was President of the Scientific Section of the Union during one mandate. In 1967 he was elected as a member of the Macedonian Academy of Sciences and he was secretary of the Social Sciences Department at MASA.
Miljovski wrote about 140 papers of scientific and expert character, and the very papers were published in popular scientific journals.
He was ambassador of SFRJ in Denmark and Bulgaria.
He died in Skopje in 1983.