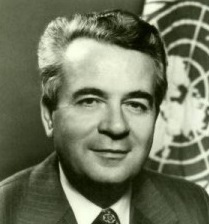 He was born in Negotino in 1920. He graduated and received his PhD from the Faculty of Law in Belgrade.
His extensive work experience comprises the following works that he performed: Director of the Macedonian "Tanjug" Branch, Secretary of the Presidency of the People's Government, Head of the Press Department of the Presidency of the People's Government. In 1945 he was appointed as a Public Prosecutor of the Court of National Honour.
He was appointed as Public Prosecutor of the People's Republic of Macedonia in 1948, and later he became President of the Supreme Court of Macedonia, Director of NIP "Nova Makedonija", Yugoslav Ambassador to the USSR and Mongolia (1958-1961), Austria (1967-1969), the United Nations, Guyana and Jamaica (1969-1974). He was Deputy Foreign Minister of Yugoslavia, Director of the Workers' Movement Institute, Director and Editor-in-Chief of NIP "Borba". Mojsov was President of the General Assembly of the United Nations (1977-1978), President of the Presidency of the Union of Communists of Yugoslavia (1980-1981), Minister of Foreign Affairs of the SFRY (1982-1984) and a member of the Presidency of the SFRY (1984-1989) where he was president from 1987 to 1988.
He died at the age of 90 in Belgrade in 2011. He is buried in the Alley of Honour, at the New Cemetery in the city