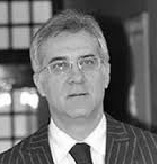 He was born in Veles in 1960. He graduated from the Faculty of Law in Skopje (1986), and then he passed the bar exam.
From 1989 until 1997 he worked as an apprentice and professional associate at the Municipal Court – Skopje. Later he became a Deputy Prosecutor at the Basic Public Prosecutor's Office – Skopje where he was engaged in criminal cases that are under the first instance jurisdiction of the Basic Public Prosecutor's Office Skopje.
He participated in numerous domestic and international seminars in the field of criminal law, financial crime, money laundering and trade in human beings, in which he comes to be a human rights educator – fair trial and trial within a reasonable time.
In 2007 he was elected Public Prosecutor of the Republic of North of Macedonia and he exercised this office until 2013.
Today he works as a lawyer.